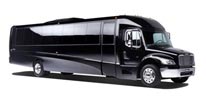 Rock Star Rides...Pebbles Prices!
$52 one way.
TIPPING YOUR AWESOME DRIVER!
BSS Drivers are Professionals! They have millions of miles of experience and they work very hard to make sure you have a smooth and SAFE ride on a very dangerous road. They load and unload all your luggage. They get up just after midnight to pick you up at 3:00 am. Don't forget to tip your driver! They deserve a nice tip!!
Ride like a Rock Star to and from Bozeman Yellowstone International Airport (BZN) and your Big Sky Resort destination aboard Big Sky Shuttle's Luxury Coaches. We offer one cool ride for up to 32 guests and Charters for larger groups. We will not "push" your reservation leaving you stranded at the airport for hours waiting for a full bus. Kick back, relax in our quilted leather seats and enjoy a ski movie while we safely take you to your destination at Big Sky Resort. The snow is waiting!
Pick-Up Details for Shuttle Service
BOZEMAN AIRPORT SHUTTLE: Your driver will arrive 20-30 minutes BEFORE trip departures at BZN to facilitate loading. All Bozeman airport shuttle departures will leave on time. Your BSS Driver and Luxury Coach will be waiting in the bus loading area. We are the black Luxury Coaches with our BSS logo on the back-side window. If weather is inclement, please wait inside until you see Big Sky Shuttle's Luxury Coach arrive for loading.
BIG SKY SHUTTLE STOPS: Please be at your pick-up location on time. Big Sky Shuttle will not wait for late arrivals.
---
Read our policies here.